Deformed Toenails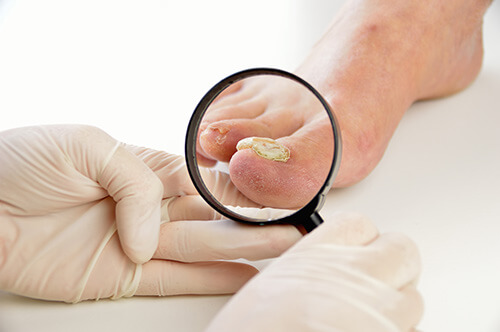 Deformed nails can be painful, ugly and embarrassing. They can become so thick that they are difficult or impossible to trim yourself. A deformed toenail is often caused by injury to the nail, shoe pressure or pressure against an adjacent toe that has bent, contracted or rotated.
A thick, deformed toenail often needs to be permanently removed. This is a simple office procedure that can be done on your initial visit. Once healed, the toe often looks quite normal with just an outline of the toenail. This can then be covered with toenail polish if desired.
Many diabetic and elderly patients, especially those with poor circulation often have very thick and deformed toenails that they or family members are unable to trim. These nails can not only become painful, but become a source for sores, ulcerations or infection. If health and/or circulation problems prevent permanent removal of a deformed toenail, then we can provide professional toenail trimming and filing (palliative foot care). Most people requiring this care will only need it about 3-4 times per year. In some cases, this may be a covered service through your insurance.
If you are having problems with deformed toenails, then an appointment is necessary with Dr. Silver at the Westwood Foot Clinic in Golden Valley to determine the ideal treatment to get your toenails looking and feeling healthy again. Don't delay treatment any longer!
Click here or call (763) 231-2341 now for an appointment with Dr. Silver at the Westwood Foot Clinic in Golden Valley, MN.
You can also reach us at This email address is being protected from spambots. You need JavaScript enabled to view it. with any questions or concerns.
Westwood Foot Clinic serves the community of Golden Valley and surrounding communities, including St. Louis Park, Plymouth, New Hope, Crystal, Robbinsdale, Wayzata, Minnetonka and Minneapolis.