Hammertoes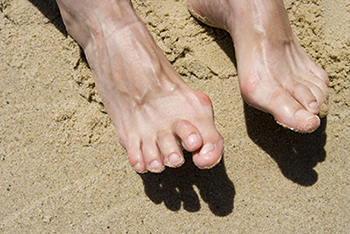 What is a Hammertoe?
A hammertoe is a toe that has bent, curled or contracted. It got this unusual name as sometimes the toe will resemble a hammer (if you really use your imagination). There are many causes including an imbalanced, weak or flexible foot structure, congenitally deformed or long toe, wearing "the wrong shoes" and changes in the way you walk from back or balance problems, arthritis or injury. The bent or hammered toe can develop a painful pressure corn on the top or tip of the toe and make it difficult to find shoes that fit comfortably.
Initial treatment typically involves shoes with a deeper, roomier toe area to prevent shoe irritation. Medicated corn pads can soften the corn, but must be used with great care as overuse can burn the skin or cause infection. Be very careful if you try to trim off a corn as many patients are seen in our clinic after cutting themselves trying to trim the corn on their hammertoe. Corn pads that are available in drug stores can also help. At the Westwood Foot Clinic we have several types of gel corn pads, gel toe shields and hammertoe splints available for your convenience. We also have deeper and wider shoes as well as stretch shoes available in our clinic.
When surgery is necessary, we can perform this in the comfort of our office. Straightening the toe is typically a relatively simple procedure using local anesthetic, with excellent results and minimal amount of post-operative discomfort. Most patients are able to wear a regular sandal or athletic shoes afterwards with minimal down time.
It's time to see Dr. Silver at the Westwood Foot Clinic in Golden Valley, MN if you are having any toe irritation, problems wearing shoes comfortably and especially if your hammertoe becomes painful and starts to interfere with normal activities such as walking or sports. Dr. Silver will evaluate your hammertoe and determine the best treatment for you.
If you have a problem hammertoe, then Click here or call (763) 231-2341 now for an appointment with Dr. Silver at the Westwood Foot Clinic in Golden Valley, MN.
You can also reach us at This email address is being protected from spambots. You need JavaScript enabled to view it. with any questions or concerns.
Westwood Foot Clinic serves the community of Golden Valley and surrounding communities, including St. Louis Park, Plymouth, New Hope, Crystal, Robbinsdale, Wayzata, Minnetonka and Minneapolis.