Special Shoes For Arthritic or Swollen Feet and Hard to Fit Feet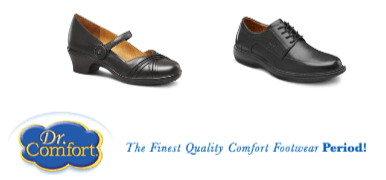 DR. COMFORT SHOES AVAILABLE AT THE WESTWOOD FOOT CLINIC
Comfortable Shoes! Great Quality!! Great Price!!!
⦁ Men's sizes: 6-15 Women's sizes: 4-12
⦁ Narrow to extra-wide
⦁ Various styles and colors including athletic, casual, dress, stretch, Velcro-closure,
double depth and boots (including steel-toe).
⦁ For normal to difficult-to-fit feet
At the Westwood Foot Clinic we can measure and fit you with the perfect Dr. Comfort shoes for your feet…whether you have normal, arthritic, deformed or swollen feet.
Money back guarantee!
Westwood Foot Clinic proudly serves the communities of St. Louis Park, New Hope, Plymouth, Wayzata, and Minneapolis.