Plantar Warts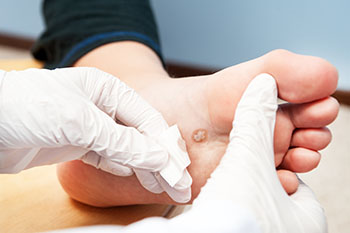 Plantar warts are nasty growths that are often quite difficult to get rid of. This is one of the more common foot problems treated by Dr. Thomas Silver and staff at the Westwood Foot Clinic in Golden Valley, MN. We have helped many get rid of resistant plantar warts that failed to resolve with other treatments.
Plantar warts are viral growths on the plantar, or bottom surface of the feet. These growths can not only be ugly and embarrassing, but can become painful, multiply, spread to other parts of the body and are contagious to other family members. Therefore, it is essential to have plantar warts treated as soon as possible. Putting off treatment can result in more painful, extensive care that can be more costly, not only financially but in time spent with multiple treatments and healing.
The wart virus can be found almost anywhere you walk barefoot where others have also walked barefooted, especially around locker rooms and swimming pool areas. Although anyone at any age can get plantar warts, they are especially common on children's feet as they go barefoot more often and are exposed to the virus more often than adults. Plantar warts are often the most difficult type of wart to treat because the skin on the bottom of our feet is the thickest on our body and they can grow deep into the skin.
Dr. Silver at the Westwood Foot Clinic in Golden Valley, MN has a very high success rate with the various methods he uses to treat plantar warts and can determine the treatment that is best for you. We understand that you don't want treatment to be a long, drawn out or painful process. Therefore, we will do everything possible to get rid of your plantar warts as quickly as possible with the least amount of repeat visits. Dr. Silver also treats warts on the ankles, legs and hands as well as other skin related problems.
Depending on the type and extent of the warts, treatment can include chemical application, excision and microwave heat treatment.
Chemical application with a very potent acid is especially effective for children as their skin is much thinner as well as for those adults with a few small warts. Excision is often the best treatment for those with just one or two warts that aren't too big. Swift microwave is the newest treatment we have available, and this is the best treatment for large, multiple and resistant warts.
If you have plantar warts, don't delay getting treatment any longer! Dr. Silver at the Westwood Foot Clinic in Golden Valley, MN is the leading expert for wart treatment in the Twin Cities. Click here or call now at (763) 231-2341 for an appointment to get rid of those nasty warts.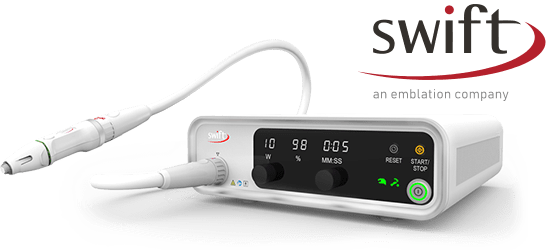 Click here to learn more about Swift Wart Treatment
Before SWIFT treatment
SWIFT treatment
SWIFT treatment
Before and After SWIFT treatment
---
Testimonials
"Friendly, supportive staff gave awesome service for a large plantar wart on the ball of my foot. Doctor Silver made excision as painless as possible. 2 days after treatment and foot feels great, well on my way to healing. Highly recommend Westwood Foot Clinic where they know how to treat feet!"
- David
---
Westwood Foot Clinic proudly serves the communities of St. Louis Park, New Hope, Plymouth, Wayzata, and Minneapolis.