Foot Pain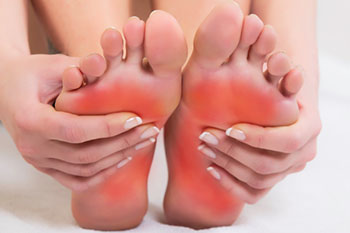 You don't have to live with foot pain any longer! If you or someone you care about is experiencing foot pain, we can get you feeling better and back to enjoying the activities you enjoy most… without foot pain! Dr. Silver and the staff at the Westwood Foot Clinic in Golden Valley are specialists in the diagnosis and treatment of painful foot or ankle conditions. We are often able to help those who did not get relief of a painful problem from store bought remedies or other treatments they have tried.
Feet are the foundation of our body and carry all of our body's weight. As a result, they are more prone to injury and pain that can range from generalized aching, arch, heel pain, nerve or joint pain. A poor foot structure that is weak or imbalanced can cause shifting of bones from their normal position resulting in bend, contracted, rotate toes. With 26 bones, 33 joints and 100 muscles, tendons and ligaments there a multitude of painful problems that can develop in your feet!
If you are experiencing foot or ankle pain, especially if has been getting worse or has not improved over time, then you need to be seen by Dr. Silver at the Westwood Foot Clinic in Golden Valley.
To determine the best treatment plan to alleviate your foot or ankle pain, your evaluation may include x-rays, diagnostic ultrasound and gait analysis-an evaluation of your feet, legs and upper body when standing and walking.
Treatment options include: change of shoes, prescription or non-prescription foot orthotics, special creams or medications, cortisone injections, gel pads/cushions or surgical procedures to permanently correct a painful problem.
If you or someone you care about is suffering with foot or ankle pain, take the first steps now and Click here or call (763) 231-2341 now for an appointment with Dr. Silver at the Westwood Foot Clinic in Golden Valley, MN.
You can also reach us at This email address is being protected from spambots. You need JavaScript enabled to view it. with any questions or concerns.
Westwood Foot Clinic serves the community of Golden Valley and surrounding communities, including St. Louis Park, Plymouth, New Hope, Crystal, Robbinsdale, Wayzata, Minnetonka and Minneapolis.