Foot Surgery
NON-SURGICAL & SURGICAL TREATMENT OPTIONS FOR THE CARE OF YOUR FOOT PROBLEMS
At the Westwood Foot Clinic in Golden Valley, MN we will work with you to determine the best treatment options for your foot problems with an emphasis on non-surgical treatment to prevent the need for surgery whenever possible. For some problems, surgical care is the best or only option when non-surgical treatment fails to alleviate chronic pain, deformity or prevent infection from conditions such as severely deformed or hammered toes, bone growths/bone spurs or soft tissue growths. We specialize in minimally invasive correction of painful corns, calluses and bone spurs and are able to perform these procedures as well as the correction of painful hammertoes in the convenience of our in-office surgical area.
We often see patients for second surgical opinions and are either able to take care of their foot problem without the need for surgery or with much less extensive/less invasive procedures.
---

I cannot thank you enough for the surgery you performed on my left foot! The foot has healed and is perfect now. You have been my podiatrist for a long time and I think your expertise is outstanding. Thank you again so very much!!! – SANDY
---
Minimally Invasive Foot Surgery
Dr. Silver specializes in the correction of many common painful foot problems with "Minimally Invasive" Surgical Procedures (aka Minimal Incision Surgery).
What is Minimally Invasive Foot Surgery?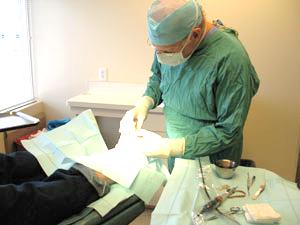 Minimally invasive foot surgery is a specialized field of foot surgery using small dental type instruments to correct problems through very small incisions, without the need for any stitches. These in-office procedures are ideal for correcting painful corns, calluses, protruding bones and bone spurs. It is also used to resolve some diabetic pressure ulcers by taking down underlying bone that may be the cause of a corn, callus or sore. Patients can often wear regular casual or athletic shoes afterwards with limited down time from work or activities with decreased incidence of post-operative infection.
Does a doctor need special training to perform this type of surgery?
Dr. Thomas Silver at the Westwood Foot Clinic in Golden Valley, MN is a fellow of the Academy of Ambulatory Foot Surgery and has attended many surgical training seminars and workshops over the years to receive the specialized training needed to perform minimally invasive foot surgery. He is one of the only podiatrists in Minnesota who performs this type of surgery and over the past 30+ years has been able to help thousands of patients to get relief from their painful foot problems.
Are there any risks involved with minimal incision foot surgery?
Any procedure involving a break in the skin runs the risk of infection, but since the incision is so small, this risk is significantly less than with traditional foot surgery. Also similar to traditional foot surgery, there is always a risk that results are not as good as expected with the possible need for additional surgery.
Is this type of surgery covered by my health insurance?
This is covered service by insurance plans as this is not a cosmetic procedure. Of course, you would still be responsible for any insurance co-pays and/or deductibles.
How to I know if a minimally invasive procedure can help correct my foot problem?
Minimally invasive foot procedures are perfect for getting rid of chronic painful corns, calluses or sore areas caused by enlarged or protruding bones, especially for those leading active life styles. It is also ideal for older patients who can't tolerate more extensive foot surgery, especially those with diabetes, severe arthritis, circulation or other health problem. Dr. Silver has also used these procedures to cure chronic pressure ulcers on the feet of diabetics that are caused by underlying bony pressure. Traditional foot surgery is necessary to correct foot problem such as bunions, hammertoes or neuromas, but minimally invasive foot surgery has truly proven to be of great value for certain painful foot problems. The best way to find out if a minimally invasive foot procedure can help alleviate your foot problem is to schedule a consultation with Dr. Thomas Silver at the Westwood Foot Clinic in Golden Valley, MN.
Click here or call (763) 231-2341 now for an appointment with Dr. Silver at the Westwood Foot Clinic in Golden Valley, MN.
You can also reach us at This email address is being protected from spambots. You need JavaScript enabled to view it. with any questions or concerns.
Westwood Foot Clinic serves the community of Golden Valley and surrounding communities, including St. Louis Park, Plymouth, New Hope, Crystal, Robbinsdale, Wayzata, Minnetonka and Minneapolis.